Several water stakeholders drawn from Rift Valley, Nyanza and Western regions have today held a day long consultation meeting at Kabarak University, Nakuru County in efforts to come up with structures on how to hand over completed water infrastructure and liabilities to the devolved units.
The meeting organized by the Ministry of Water, Sanitation and Irrigation was also attended by representatives from four Water Agencies, County Governments, and water companies among others.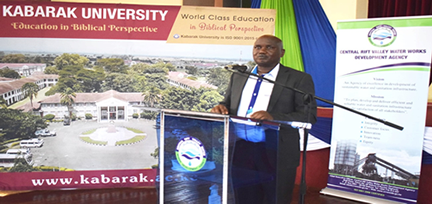 While addressing the participants, James Nduna who is the head of legal at the ministry said a water sector handing over framework is supposed to be developed so as to ensure sustainability of the handed over infrastructure as well as continuity in service provision and liability financing.
According to him, water sector handing over program aligns the sector institutions with the constitution of Kenya 2010 under the Fourth Schedule Part 1 Section 2 and 19 which provides that it is a function of the National Government to develop the water resources and national public works while Part 2 (11) (b) provides that the County Governments are responsible for the county public works including water and Sanitation Services rendering water shared function between the National and County Governments.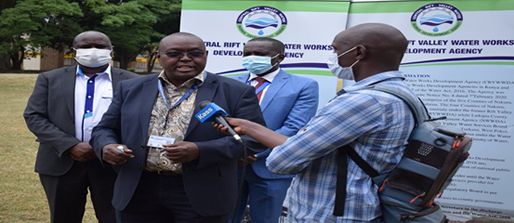 In a message delivered by Central Rift Valley Water Works Development Agency General Manager-Finance and Corporate Services, CPA Douglas Murei on behalf of the Chief Executive Officer Eng. Samuel Oruma, the CEO said water Act requires that upon commissioning of developed water and sanitation infrastructure, the same is transferred from Agencies to the counties for operation.
"In line with accelerating implementation of water sector reforms, the ministry embarked on implementing the water sector transition plan that aims to guide the transfer of assets from Water Works Development Agencies to county Governments and water service providers," said Eng. Oruma in his statement.
CRVWWDA was curved out from Rift Valley Water Works Development Agency that served seven counties including Turkana, West Pokot, ElgeyoMarakwet, Baringo, Nakuru, Nyandarua, and Narok to form CRVWWDA and North Rift Water Works Development Agency.
By Vincent Mabatuk
Communication Assistant
July 2nd, 2021