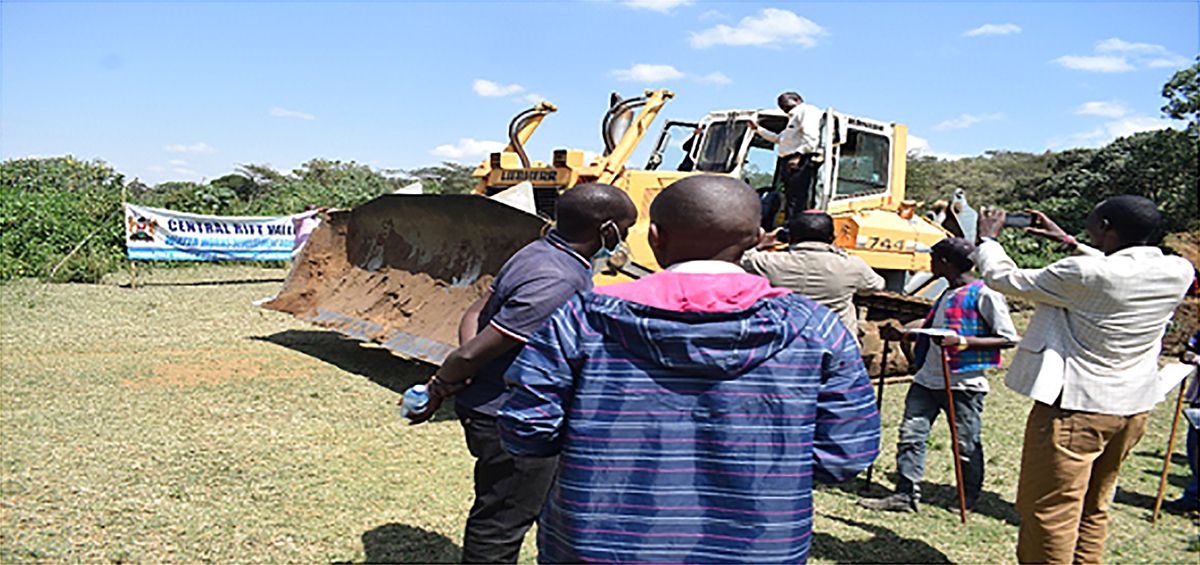 Lack of clean and reliable water supply remain one of the pressing issues in Suswa, Narok East Constituency. However, the Ilkamaniki community water project is aimed at bringing safe, reliable and adequate water supply to the community who currently live 10-15 kilometers from the nearest water source.
At the moment, women and girls trek for kilometers to access water not only for households but for domestic purpose, a task they have religiously committed themselves for decades. Given the distance they cover, the community has lost hundreds of their animals to droughts and children forced to stay out of school due to lack of water.
"We are glad that the Government considered us in putting up such a water project because we trek for over five kilometre s with our donkeys to search for water. Now we will access water for our domestic use and animals just a few meters from our houses," said Tmarei Kairepi a resident.
The 76-years-old mother of eight said water scarcity in the area remain a torn in the flesh and applauded the ministry of water, sanitation and irrigation for coming to their rescue.
According to elders, seventy-nine years ago, hundreds of Maasai Morans turned up at Rusiai village after receiving instructions from a white settler, to construct a earth dam, locally referred as Olturoto using hand tools.
But in 1972, the dam wall was breached and siltation due to extensive crop farming activities upstream of Oike river emanating Enosubukia forest which forms part of the Mau complex.
Since then, no rehabilitation has taken place with residents forced to trek for several Kilometers alongside their emaciated livestock in search for the precious commodity.
However, their tribulations will be a thing of the past following groundbreaking ceremony carried out by Central Rift Valley Water Works Development Agency (CRVWWDA) together with Narok East Member of Parliament, Ken Aramat.
The ceremony was also witnessed by the contractor, who received the site and hundreds of community elders, church leaders, local administration among others.
Dressed in their local regalia, elders armed with Maasai leadership sticks trek for kilometers to witness and bless the ceremony deep down Oike river, exactly at the place the previous dam was constructed in 1942.
According to Eighty-nine- years-old Mzee Gadaffi Ole Seno Meriapi, the community had suffered a lot without the dam and rally his community to support the contractor, saying the project meant a lot to them.
"This is history and I applaud CRVWWDA for taking this project seriously. I assure you of my total commitment and the community support until this project is completed and handed over to the community,'' said Aramat.
The legislator described the project as game changer, saying the community had remained behind for decades due to lack of water and urged the livestock lovers always to protect water sources by discouraging agricultural activities upstream.
He asked them to support Government efforts through reforestation, saying planting water friendly trees was the only way to prevent siltation hence prolonging the dam's lifespan.
The area to be served by the project is a semi-arid and in dire need of water supply for homesteads and livestock. Water will also be used for domestic purposes within an area of 15km square.
The dam is design to serve 10,000 people, 20,000 livestock and two primary schools with a population of over 600 pupils. The area is also expanding at an alarming due to the upcoming railway station in Suswa and the Naivasha Industrial Park situated at the famous Kedong ranch along Narok-Mahiu Mahiu road.
Eighty-nine-year-old Mzee Gadaffi Ole Seno Mariapi stresses a point during the dam's groundbreaking ceremony at…village in Narok East Constituency, Narok County.
While addressing the residents, CRVWWDA Ag. Chief Executive Officer, Eng. Samuel Oruma assured them of uncompromised work, saying locals will be consider during employment.
The construction involves, the dam embankment and reservoir with a capacity of 100,000m3, silt trap, spillway, cattle trough, community water point and general fencing around the dam area.