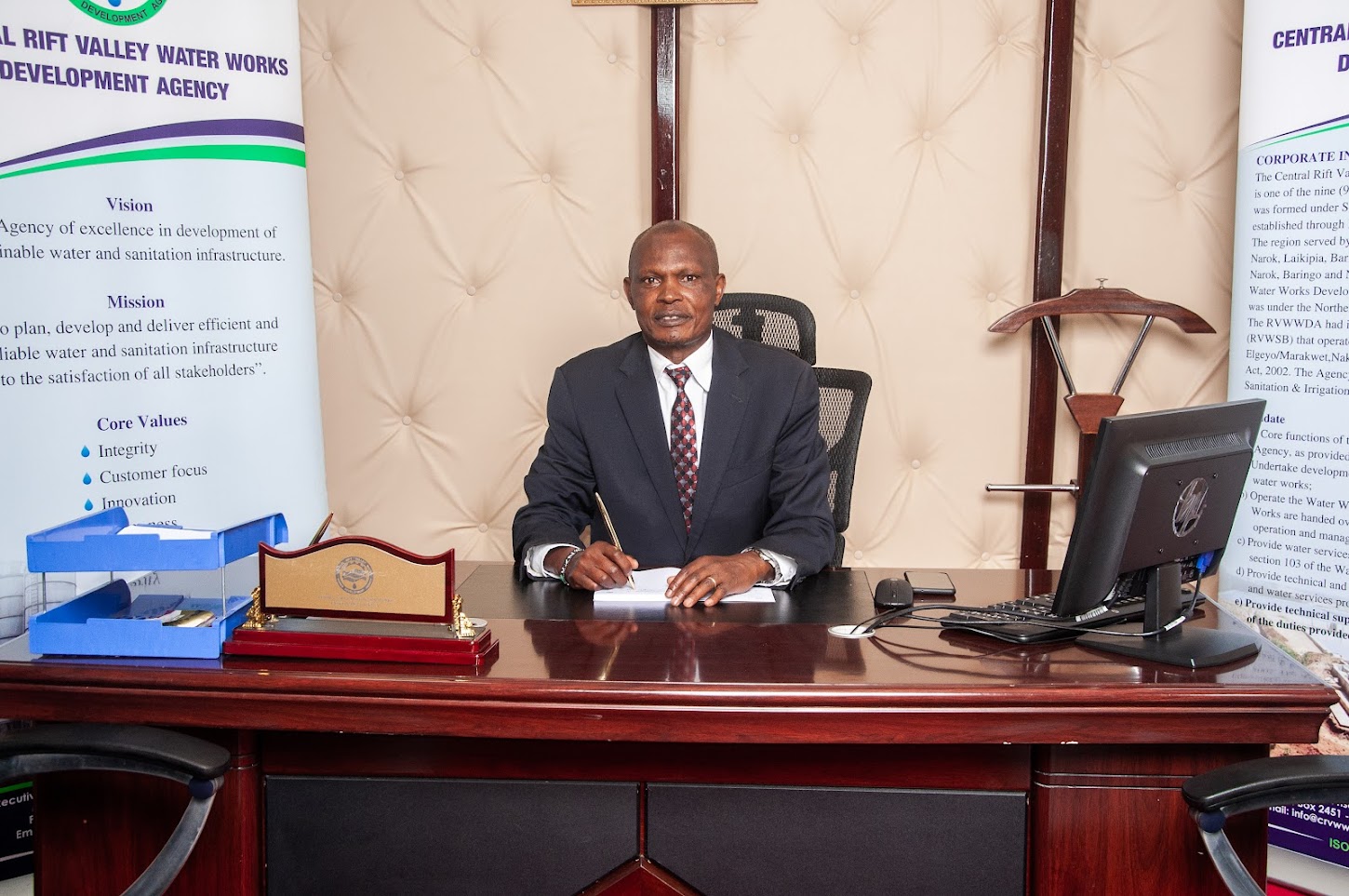 In my capacity as the Chairman of the Board, I take pleasure in welcoming you to our website.
I would like to thank the Government of Kenya led by His Excellency the President, Dr. William Samoei Ruto through the Ministry of Water, Sanitation and Irrigation under the able leadership of the Cabinet Secretary Hon Alice Wahome, for this opportunity to serve the great people of Nakuru, Baringo, Nyandarua, Laikipia, Narok and the Country as a whole. My experience in the water sector goes a long way in shaping the leadership of this institution.
In this website, we outline our Vision, Mission, Core Values as well as our strategic objectives and expression of commitment of the Government through the Board of Directors to you as our stakeholders. We focus on management and actualization of the Kenya Kwanza Government Agenda, the Bottom-up Economic Transformation Agenda (BETA) approach.
In our goal and vision, we ensure a continuous achievement of our mandate through the need for provision of quality water infrastructure, safe drinking water and basic sanitation for all residents in the Rift Valley basin is met to the very bottom of the pyramid.
On behalf of the Board of Directors, we are proud to have some notably progressive achievements in the implementation of Kenya Towns Water Sustainable and Supply Programme through completion of the Narok Town Sewerage project, being the first project Countrywide to be completed under the programme, and Olkalou town Sewerage project which is complete and ready for commissioning. The Government of Kenya (GoK) funded Chemususu dam Water Supply project is also complete and ready for commissioning.
In addition, we have made remarkable progress through the revival of Itare Dam Water Supply, Kirandich projects and Pesi Dam that are worth billions of shillings to ensure that residents of Baringo, Laikipia Narok, Nakuru and Nyandarua counties have adequate water supply.
However, in a world that experiences a daily shift in water and sanitation needs due increasing population, we have a goal to ensure that resources from GoK and other donors are channeled to develop infrastructure to the grass root level.
It is therefore my commitment, and on behalf of the Board of Directors to ensure smooth running of the Agency through a functional management and a motivated team of staff and other stakeholders.
I sincerely thank the Government of Kenya and Donors for the continued support. I also wish to extend my gratitude to the Board, Management and staff for their unreserved dedication and input into the process.

Asante.
Hon. Mathenge Nderitu
Chairman.