Celebrations rocked Yala village as hundreds of jubilant residents turned up to receive President Uhuru Kenyatta as he arrived to commission and launch water projects in the area.
Armed with traditional drums, women dressed in skirts made from sisal danced almost the entire day waiting for the chief guest as visitors gather around to appreciate the songs and perfectly coordinated moves.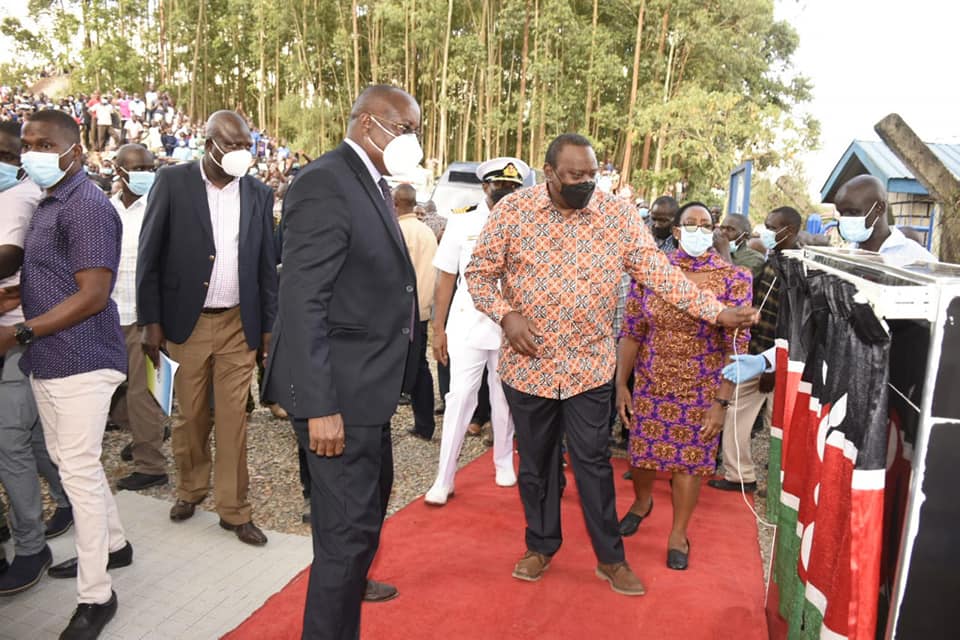 Women, men and their danced vigorously as the president and the former Prime Minister, Raila Odinga arrive at Yala treatment plant in Gem sub county, Siaya County.
The head of state was in the area to launch the construction of Siaya- Bondo water supply project and Siaya Bondo Last Mile Water Connectivity project.
The multimillion water project will see an additional Water supply distribution pipeline constructed from the treatment works to Siaya and Bondo towns.
The ceremony will take place at Yala Water Treatment Plant constructed during the first phase of the project, currently operational.
The head of state will be accompanied by several senior Government officials, political leaders and Siaya county leadership.
The main objective of Siaya, Bondo Water Supply and Sanitation Projects is to improve and access, quality, availability and sustainability of water services to the beneficiaries.
It involves construction of the return line from Nyamninia to Yala, Renovation works for the old Sidindi Malanga raising main, Repair of the Nyamninia tank and treatment work master meter, Provision of 3,000 consumer connection kits among others.
The sanitation component shall consist of supply and installation of various sizes of distribution network pipeline, exiting sewer minor renovation works, erection of perimeter fence for the wastewater treatment plants, flushing of the clogged sewer lines before installation of new connection and undertake renovation works for the existing manholes and provision of missing manhole covers.
The water project is being financed by the African Development Bank and the Government of Kenya.
Like several other projects under Kenya Towns Sustainable Water Supply and Sanitation Programme, Central Rift Valley Water Work Development Agency is implementing the project while Lake Victoria South Water Works Development Agency is the beneficiary.
The Government of Kenya received financing from the African Development Bank in the form of a credit towards the Kenya Towns Sustainable Water Supply and Sanitation Programme (KTSWSSP). The aim of the programme is to improve the quality of life and reduce poverty levels of the population of Kenya through provision of water and sanitation services on a sustainable basis.